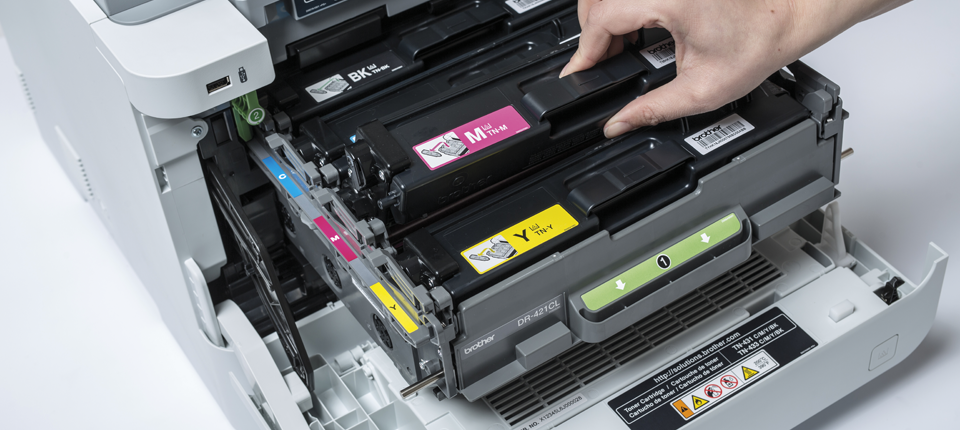 There are two ways to equip a business for printing. The way most businesses do it... and the cost efficient way to print.
When you talk about printing costs, one of the first measurements that people tend to refer to is cost per page: How much does it cost to print one page?
While that is an important metric, it is only one aspect, at the end of a long chain of cost factors. To overlook the costs associated with earlier steps in this chain is to miss arguably the greatest opportunities to make savings.
Ascertain your needs
The place to begin is to assess what your actual printing needs are. What kind of documents do you need to produce, and in what quantities? How many printers, of what sort, do you need to keep your business running smoothly?
A basic choice to make is between inkjet and laser printers. Inkjet technology is advancing rapidly, but for high-volume printing, investing in laser printers still makes the most sense in terms of economy. Inkjets are best if you need a printer for photographs or quality colour graphics, or you need to print on heavier paper stock.
Consider how many people in the business really need to be able to print in colour. Text documents and forms seldom require colour, while many graphs and charts can make as much sense in black and white as in colour. Make sure you use the cheapest method that will suffice.
Resourcing to fit the need
If you are going to buy new equipment, this is a place to look at the printing costs per page... among other things. Consider the total cost of ownership, including the software you'll need, as well as the expected cost to support that device.
Also try to limit the variety of devices you buy, as this has implications for print management and support. If you only have one or two types of printer, that means you don't need many different software programmes to run the devices. It also makes it easier for your IT and general office staff to become familiar with the machines and learn how to operate them effectively.
"Try to limit the variety of devices you buy, as this has implications for print management and support."
In most cases, many people can share one printer, especially if they don't do a lot of printing. Having to get up to collect their printing may also discourage unnecessary printing. Do keep in mind, though, that the nature of the work some people do means that they need their own printers for reasons of confidentiality. HR and payroll come to mind, but there may be others.
Many of the latest printers come with advanced security features you can use if needed. Printing has been identified as a common cause of security leaks.
Efficient operation
Whether you have new printers or not, you can help them run more efficiently. For most businesses, black only, duplex printing (i.e. on both sides of the paper) should be the default setting for all printers. With many printers, print quality can also be set to economy or draft mode, which delivers good enough quality print for internal use, while limiting the amount of ink or toner used.
Use low-power and sleep mode energy economy settings to help reduce overall printing costs. If nobody is around in the evenings or weekends, there's no need for the printers to be ready to print at a moment's notice.
"All of these small improvements together can make a significant difference to your bottom line."
If you do a lot of scanning, you may want to consider scanning to pdf or another digital format, creating electronic files, rather than printing copies. If these have to be sent around to different offices, that also saves on postage or courier costs.
Another way to reduce the number of unnecessary pages printed is to set up printers so that, while documents can be sent to the printer from any work station, the owner has to verify his or her identity at the device itself before the printer actually produces the pages. That way wasted printed pages don't mount up at the device. It may even make your staff think twice before clicking on Print.
All of these small improvements together can make a significant difference to your bottom line.
For more expert techniques on getting the most out of your office printer, download our free guide.