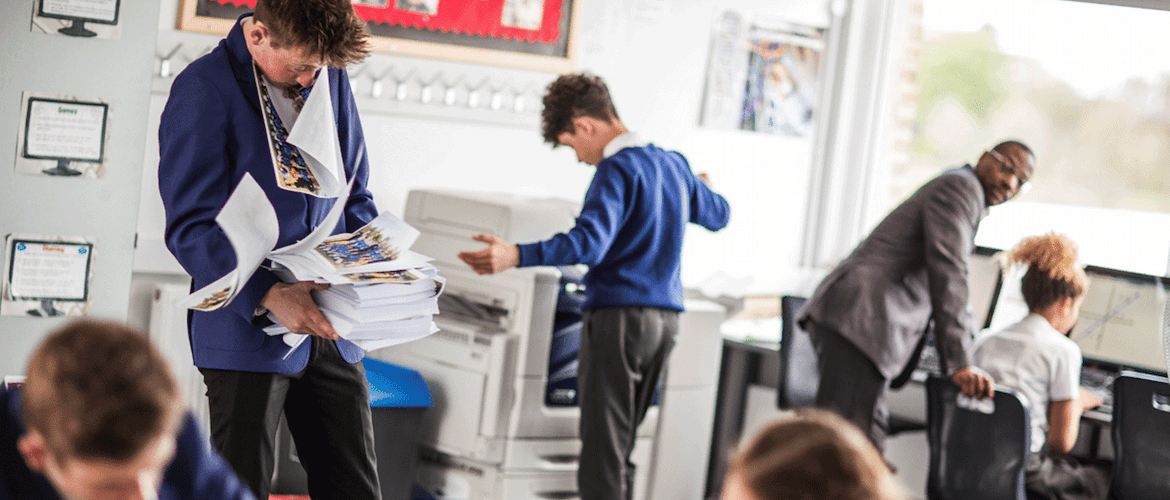 Printing problems are the bane of teachers' lives. Using a third party to deal with printers reduces hassle
Every teacher has been there: you're on your way to start a lesson and the worksheets you've carefully prepared won't print. So you either have to waste time and energy standing by the printer, or abandon using them altogether.
On an already stressful day, the last thing you need is the hassle of dealing with a faulty printer or a slow photocopier – yet it's a common problem in many schools. "When you have printers in classrooms they tend to break and not work very well," says a teacher from Colegrave primary school in east London. "We also used to find that when we printed out pages and put them in children's books, the glue made the ink colour run a little bit."
Dealing with printers can be difficult and costly for schools; they stop working at random intervals, run out of ink, or break altogether. To put an end to that wasted time, schools like Colegrave are choosing to use a managed print service instead, where printers are leased instead of bought. By doing this, they can access the most up-to-date printers, and get training, support and installation built into the cost.
A predictable quarterly bill
While printers will not solve the school funding crisis, providers say a managed print service can slash capital costs and replace them with a predictable quarterly bill, so schools can organise expenditure.
Colegrave primary school who use a Brother managed print service, says its service is easy to use. "One of the really good things is that we've created a very flexible solution," says Diane Barnes, senior business manager at Brother. "The customer can choose the service they want, and it's tailor-made to them," she says. "That's niche and very unusual."
For example, buying lots of printers at once can be daunting for schools with tight budgets, so managed print services offer flexible payment options, such as pay-per-page print models. Matthew Cooke, IT technician at Ercall Wood technology college in Shropshire, says this is helpful. "We can see how much we spend on print in each department, on mono and colour printing – we can even predict expenditure, which is helping some departments budget more efficiently," he says. "We now only pay for the pages we print and we are invoiced quarterly, which makes it easier for us to manage our cash flow."
Print wirelessly wherever you are
Steve Ford, strategic ICT manager at Helsby high school in Cheshire, says that switching to a managed print service has also been more efficient. "We need printers in school that can cope with high-volume printing, reliably, efficiently and cost-effectively," he says. The Brother printers have proved so reliable that the school is "achieving far more with less".
These print services are also designed to be convenient; printer cartridges can be ordered via a web portal and arrive the next day. "[Technicians] help maintain the print service if there are any issues, and if they're not working, they come to repair them," says the Colegrave teacher. "The support that comes with the printers is great – we can just go to the web console and say that this printer's not working and they'll come out the next day, which is really useful because we don't have time to waste."
It has also proved easier to keep track of stock. "We were having to store massive amounts of toner cartridges until teachers needed them," the teacher adds. "Then teachers would take it without me knowing, so we couldn't keep track. But since using a managed print service, I'm able to track who's purchasing toners and when."
Schools also have access to more up-to-date printers. "We can save onto the school server, which is great because it means you can scan in one room and everyone has access to that file," says the teacher at Colegrave. "You can also save on your Google account and print wirelessly to any classroom, regardless of where you are in the school."
And if reducing costs and hassle isn't enough, then you can also know you're doing your bit to help the environment – as a managed print service helps reduce waste. With a monitoring system in place, you should be able to identify and track levels of print usage. That way, you're in a better position to intervene and reduce your environmental footprint.
Read more about how Helsby High School cut print costs and improved efficiency with a Brother Managed Print Service.