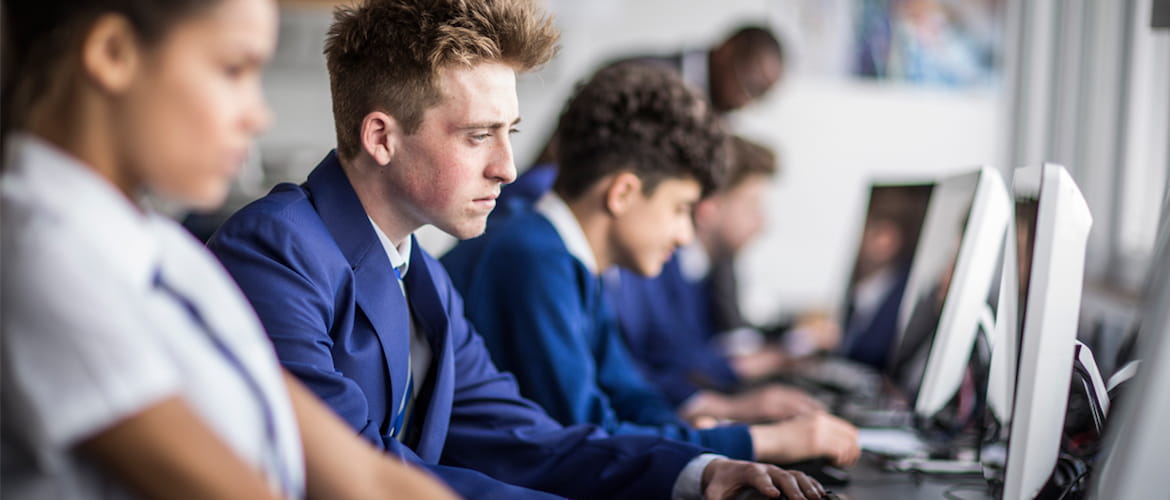 It's no exaggeration to say that young people today need equipping with an entirely different set of skills than they did a generation ago.
The internet, e-commerce and mobile technology are just a few of the transformative technologies that have helped to shape the modern world and an entirely new way of working.
Schools, colleges and universities have worked hard to step up to the plate, preparing pupils for the digital world and using new technologies like whiteboards, laptops and tablets, to deliver lessons.
And there is a growing realisation that technology can also support better ways of working for educators, boosting efficiency and collaboration, enabling better outcomes for pupils and helping to address some of the pressures that are troubling teachers too.
That's important, because research from the Department for Education has found more than half of teachers (52 per cent) think their workload is a very serious problem, and a study by the National Foundation for Educational Research found almost a quarter of teachers (23 per cent) are now considering leaving the profession due to their workload.
So, how can web-video conferencing help to address these stresses and support the highest standards of education?
New ways of working
With this in mind, we joined forces with iGov Survey to uncover how educational institutions across the UK are using web-video technology to support teaching and learning, as well as increased collaboration between teachers, their colleagues and their students.
We surveyed more than 150 education professionals from more than 130 organisations, including primary and secondary schools, colleges, universities and adult learning providers, who told us they are actively embracing new ways of working.
Almost nine in ten (88 per cent) say enabling new ways of teaching, learning and working is a strategic objective for the coming year, with almost three quarters (71 per cent) flagging web-video conferencing as a means of achieving that.
Already 62 per cent offer staff and students the ability to engage, share collaboratively and work with others from a remote location using web-video conferencing.
More than half (52 per cent) use web-video conferencing to provide remote online learning courses, while nearly half (48 per cent) use the technology to deliver staff training and over a third (39 per cent) use it for interviews.
A similar proportion (35 per cent) join internal staff meetings via web-video conferencing, while a quarter (27 per cent) use it to record tutorials or learning sessions to support absent learners and for facilitating student group sessions (24 per cent).
This is being facilitated by the increased adoption of Bring Your Own Device (BYOD) policies in institutions, with 85 per cent now allowing students to use their own tablets or laptops for learning, and 92 per cent offering students the ability to access course materials using personal devices.
And these technologies are generating real benefits where they are most needed.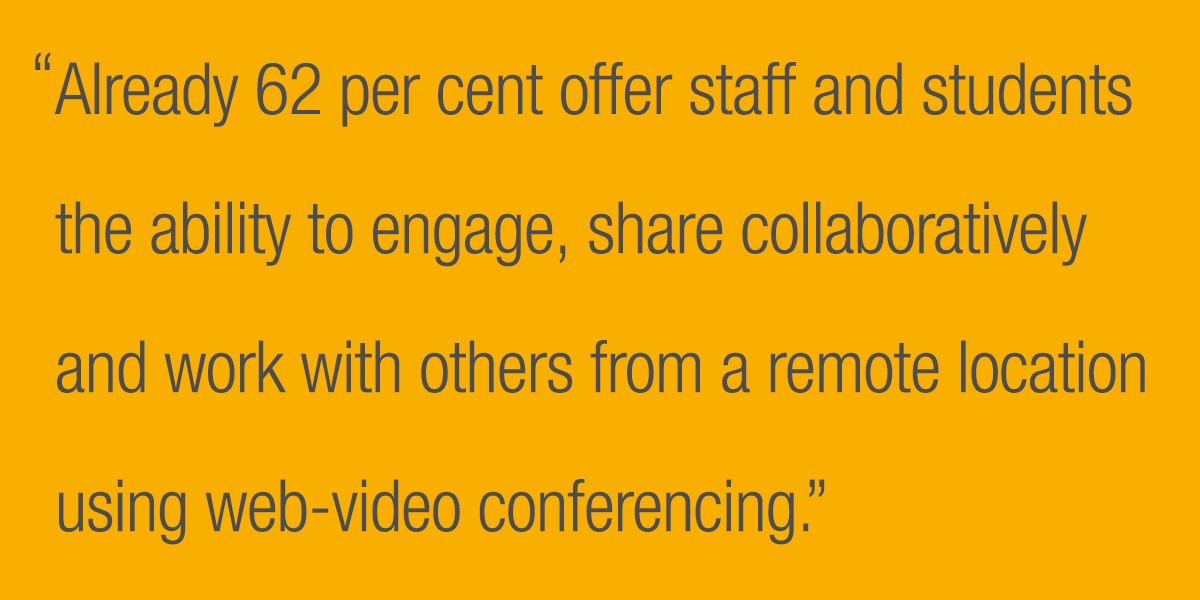 Communication and collaboration
When we ask participants about their priorities, 84 per cent say it's very important that their institution allows staff and students to communicate better, regardless of location or device, and nearly two thirds (63 per cent) credited web-video conferencing with enabling better communication and collaboration between students, teachers and wider staff.
Over half (53 per cent) say cutting costs is a strategic objective for the coming year, and 43 per cent say using web-video conferencing has achieved just that.
Delving deeper into the data, participants also report that web-video conferencing is supporting a reduction in travel for distance learners, improved student practices and greater student and/or staff engagement.
That chimes with the fact that their biggest motivation for improving their communications, cited by 51 per cent of respondents, is to achieve an improved student experience.
We are really pleased – though not surprised – to see such a strong focus on this area which, combined with the focus on enabling new ways of working, shows how focused the sector is on improving service delivery and the adoption of more effective and engaging methods of teaching in order to improve service delivery.
It is also heartening to see that perceived barriers to adopting the use of web-video conferencing are so low.
The single biggest obstacle, flagged by just a quarter (27 per cent) was limited resources – a perennial issue that rightly influences every investment decision.
And, as we have seen, web-video conferencing is actually driving increased efficiency in organisations.
Breaking barriers
Tellingly, the same proportion (27 per cent) said there was no substantial barrier to its adoption, while slightly smaller number (25 per cent) thought a lack of skills in their organisation was a barrier.
So, this report gives clear evidence that there is widespread awareness of the potential for web-video conferencing to have a significant positive impact on learning and collaboration, and that it can help address the intense, ongoing pressure on education budgets too.
This has been enabled in part by the remarkable shift in the way pupils are gaining access to information, access from a range of devices.
Indeed, educators are far more inclined to emphasise the outcomes achieved by the technology, rather than any potential barriers to using it.
While some are currently restricting their use of these tools to functions like recruitment and training – areas where their usefulness has been proven in many different sectors of the economy – it's the promise of improving communication between students, teachers and wider staff that most responders ranked as its biggest key benefit.
However, despite the appetite for updated technology to support new ways of working, there is clearly a challenge around implementation.
Only a sixth (15 per cent) said it was used across their organisation, while the highest proportion (39 per cent) said it was only used by certain departments.
A fifth (19 per cent) say the roll out is only in its pilot stage, so we'd expect adoption to keep increasing as the benefits continue to become even more widely recognised in the sector.
One thing is clear, the modern classroom must continue to cater to the evolving expectations of staff and students alike if it is to continue to achieve the best outcomes for all.
Standing still is not an option.