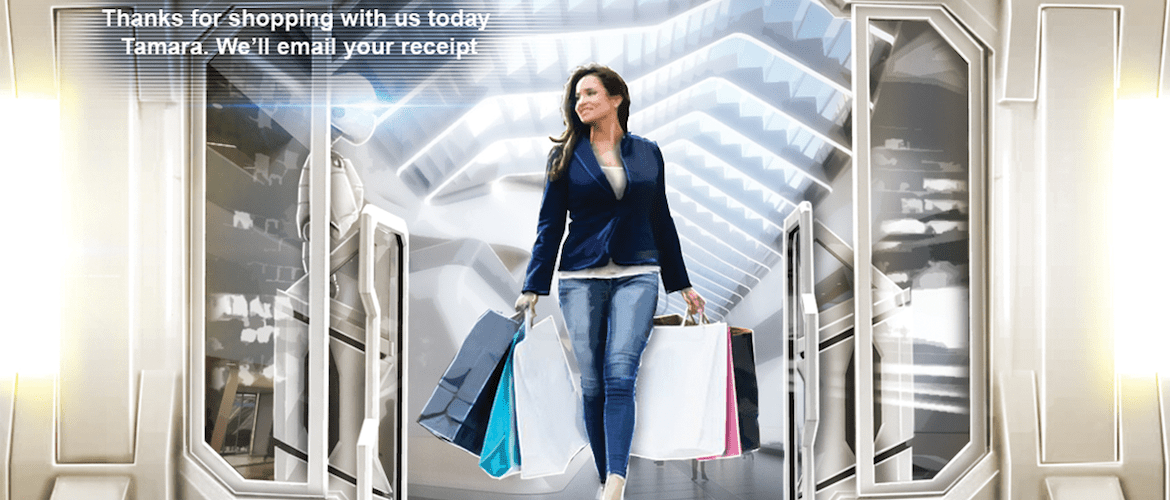 Want to find out which technologies are set to shape the future of retail?
Virtual reality. 3D printing. Facial recognition. These are just some of the technologies set to revolutionise retail stores and outlets in the future.
As retailers adopt new in-store technologies, the nature of their business could change. Many may no longer simply sell goods – instead, they're likely to provide new services and experiences by connecting their online and offline technologies. But amongst the hype and speculation that these technologies bring, is it possible to determine which will be the most impactful for retailers?
To answer this question, we've outlined some of the most common in-store retail scenarios and the ways new technology could enhance them.
Personalised messaging as a customer enters the store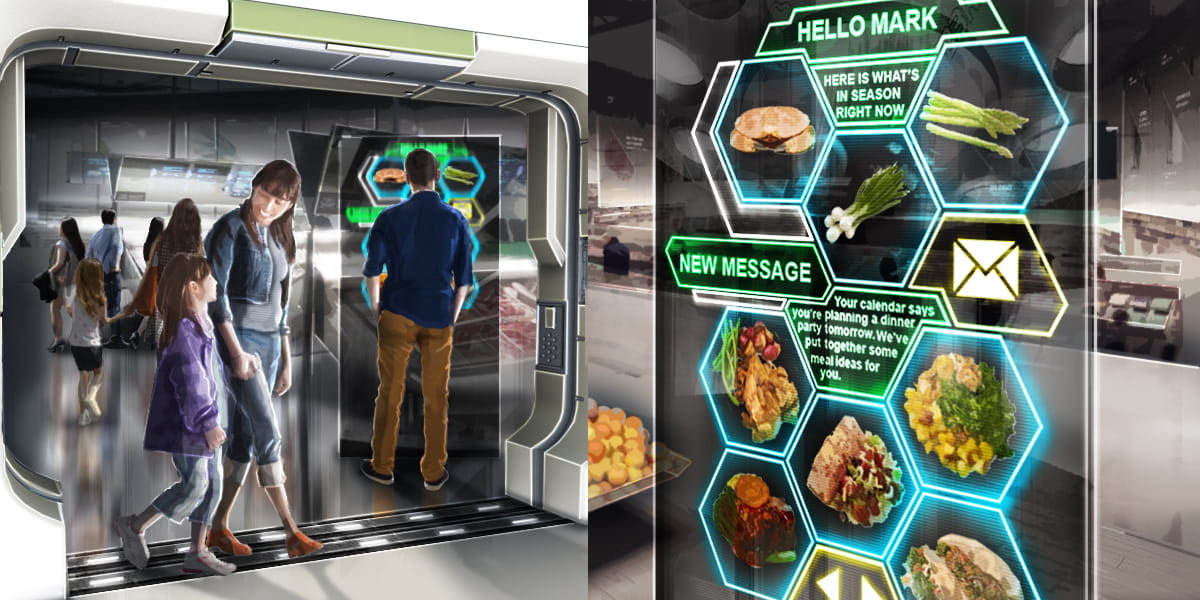 Facial recognition technology – the kind seen in 2002 sci-fi thriller Minority Report – could help large retailers identify regular customers and offer a more bespoke service. Once a customer is recognised, this information could be change the advice sales assistants offer or the messages nearby screens display. Some forward-thinking retailers are using basic applications of this technology today.
Using augmented reality to improve customer service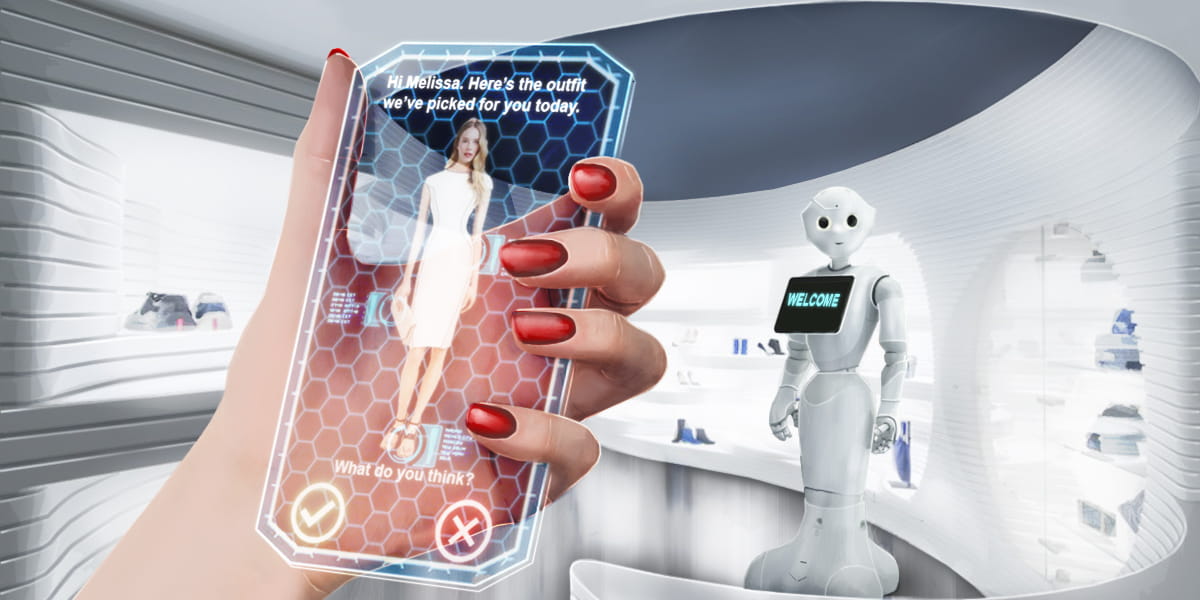 Stores of the future will offer customers a number of options before they even touch a product. At a fashion outlet, for example, a customer could create a complete outfit on-screen, which they could then try on in virtual changing rooms. Digitally enhanced dressing rooms are already being trialled by retailers such as Rebecca Minkoff.
Increasingly, stores will offer a wider variety of product information and staff will be trained to use connected devices to educate customers. In an electronic goods store, for example, screens might allow someone shopping for a fridge to read reviews and check energy consumption. At this stage they might be able to use a photo they have taken on their smartphone to find out what the product will look like in their home. IKEA has already used augmented reality technology to this effect.
In supermarkets, data collected by loyalty cards could be used to help customers create optimum orders and eliminate waste. So, a single-person household could be helped by 'intelligent scales' to buy just enough fresh produce to last until the next shop so they don't have to throw away uneaten food. If a customer is having a dinner party, or simply a cosy meal for two at home, they could use a virtual store assistant to help create an ideal menu. All the ingredients could then be brought to customers in the right quantities.
More customisation, more flexible 'Sales Assistants'
Sales Assistants are already asked to focus on providing a memorable service for each customer. But in future, they'll be expected to use technology to maximise brand loyalty and encourage return visits.
The 'personal shopper' experience is typically associated with high-end stores. However, with the introduction of connected devices in high street stores, this service is set to go mainstream. Staff are now better able hand to advise, educate and guide the customer throughout the purchase process using touchscreens and smartphones. Expect virtual reality headsets to come into as retailers look for additional ways to differentiate their in-store experience.
New technologies used together, such as virtual reality and 3D printing, will also make it possible to produce tailored items on-demand with short lead times. For example, a couple could visit a shop to choose an engagement ring and walk out with a bespoke product on the same day.
High street stores become personal fulfilment centres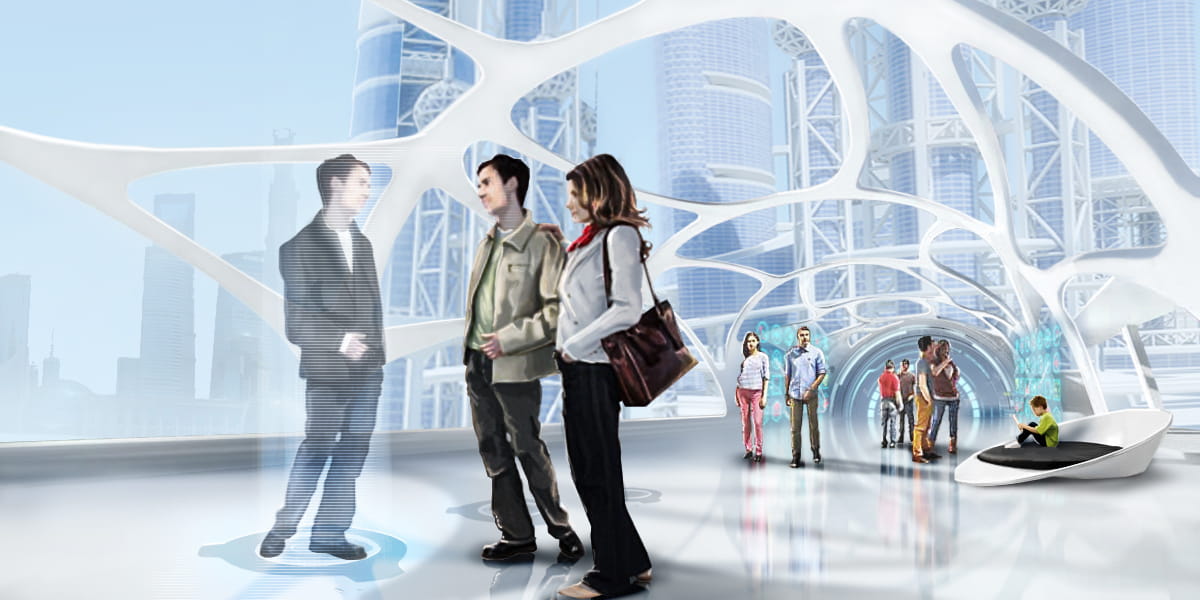 The stores of the future will offer increasingly immersive and ultimately more reward experiences, rather than just being a place that customers come to meet their material needs. Many stores are already focusing on offering better overall experiences, with more emphasis on comfortable seating, refreshments and entertainment for children and partners, for example. This trend will only accelerate as retailers compete to provide the best experience for their visitors. Harvey Nichols' installation of a café-cum-cocktail bar, a barber shop and an installation space into its re-vamped Birmingham store is indicative of this trend.
Store design and aesthetics will retain their place as critical factors in retail success. The minimalist stores of the future, with their light and airy designs, will feature touchscreen displays and virtual reality simulators instead of products on shelves. Expect fewer physical goods on display, except in instances where they need to be held, tasted or tried on. Aside from decluttering retail spaces, this will also help retailers eliminate the problem of losses caused by shoplifting, with products being securely stored elsewhere until purchased.
Checkouts – expect them to become less common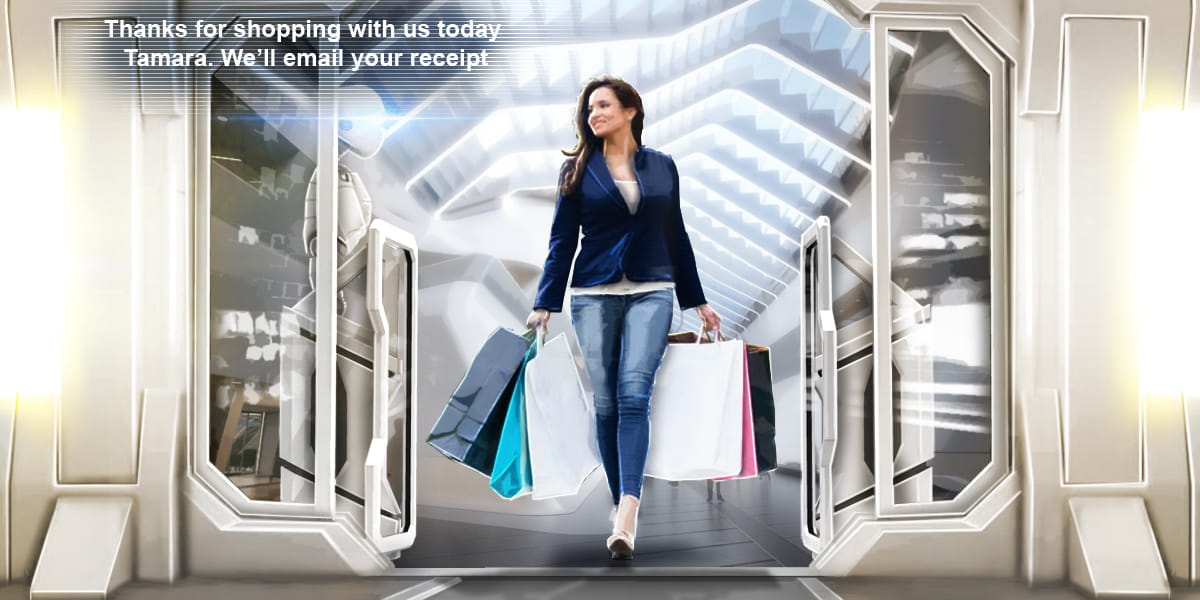 Although 'self-service' will remain a feature of shopping, the future will bring more personalised service and interaction in order to compete with online rivals. The traditional till point is likely to become less common, as customers transact directly with mobile sales assistants via their devices. Apple takes this approach in its stores today. Checkouts are likely to be replaced by packing, preparation or finishing stations where the customer's goods can be tailored, wrapped or prepared for taking home. These areas might also serve as picked up stations for customers who order online.
In future, it may also be possible to 'grab and go' in-store by using Beacons, apps or contactless technology to pay for goods without the need to visit a checkout. Amazon is one of the first companies to trial this approach. Its Amazon Go offering is currently being trialled in a purpose-built store in Washington, USA.