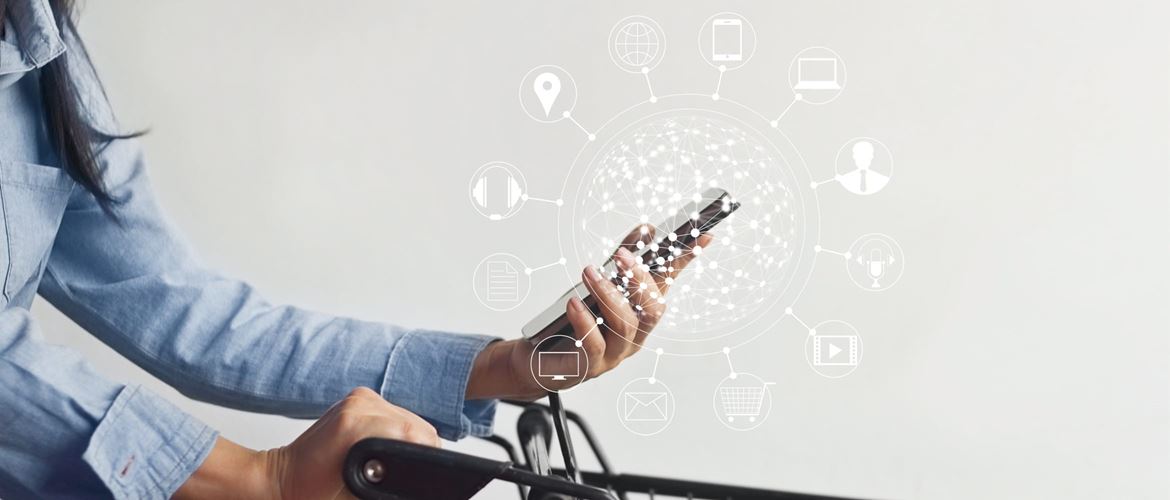 If there is one word that has dominated any discussion of the UK economy in recent times, it has been uncertainty.
Political and economic instability around the globe have contributed to an elevated sense of caution over what the future may bring.
For businesses and their customers alike, that has translated into a wariness which has impacted spending and investment.
Research by Visa found that 2017 was the worst year for consumer spending since 2012.
However, online sales continued to increase during 2017, showing how consumer habits are evolving and providing new opportunities for retailers.
According to the latest figures from the Office for National Statistics, online sales accounted for 18 per cent of all retail in December – up 17.1 per cent on the same month a year earlier.
That means almost one in every five pounds was spent online. And with 87 per cent of UK consumers said to have bought at least one product online in the last 12 months, it seems likely this growth trend will accelerate.
So, how is the current economic climate helping to shape retailers' strategies?
Online's Achilles heel
Well, painting online retail as an existential threat to traditional high street retailers would be a mistake.
There is now a growing realisation that retailers which only exist online have an Achilles heel in that they can't offer a physical shopping experience with the kind of human interaction that consumers still crave.
That's why we see Amazon moving to acquire the Whole Foods supermarket chain and the rolling out of a network of Amazon Go stores.
But it would be an oversimplification to think that just providing consumers with more than one sales channel will automatically mean that they buy more.
Rather, the retail success stories of the future will be those firms that find a way to master online retailing while still preserving their offline presence.
Services like click-and-collect and ship-from-store can help reduce costs, protect margins and make stores more productive, while enhancing consumer convenience and choice.
They can also help drive in-store traffic and achieve faster delivery times, but they require the right infrastructure.
Enabling consumers to seamlessly switch between a retailer's digital and physical stores represents the long-term future of retail, but there are no two ways about it – this requires investment.
The holy grail is to achieve a single view of the customer throughout their journey, whether that be in store, online or mobile.
Choice and convenience
Today's consumers are more highly connected than ever, and they demand choice and convenience.
That means switching between digital and physical stores at different stages of their customer journey.
From browsing to comparing products and finally payment, consumers may want to engage with a retailer in-store, online and on their mobile device.So, a shopper may spot a new item of clothing while viewing a retailer's website at home on their laptop, before checking it is available in their local store on their mobile while taking the bus into town, then trying it on in-store and paying for it using a banking app on their phone.
Choice is key, because consumers are all different, and the way a millennial wants to make and pay for a purchase can be very different from what older generations want.
Younger shoppers are far happier making payments with their mobile devices, for example, with one in four UK millennials saying they are comfortable making mobile payments.
That puts the onus on retailers to make themselves as accessible as possible, which means adopting a truly omnichannel approach.
A fantastic example of this in action is Topshop, which had its fashion experts blogging from London Fashion Week 2017.
Looks that they spotted on the catwalk were shown on digital billboards in city centre locations, alongside a selection of current Topshop stock that enabled shoppers to copy the new trends being shown at the event.
Each billboard was less than 10 minutes' walk from a Topshop location, so shoppers could easily pick up the products they had just ordered from their mobile.
During the event, sales of featured products were up almost 25 per cent on the previous week.
Topshop's On The Go app has reinforced its omnichannel offer, enabling shoppers to make purchases, check where items are in stock and find their nearest store, expertly combining the brands' physical and digital offers.
A long way to go
But it seems many UK retailers have room to improve their omnichannel offer, with research finding that almost half (44 per cent) of UK shoppers are unhappy with what they perceive as a disjointed online, mobile and in-store shopping experience.
This highlights the importance of giving consumers what they want, which, in 2018, means a quality, joined up experience that seamlessly connects across channels.
Retailers who can achieve this are finding that it pays dividends.
John Lewis has found that consumers who shop across multiple channels spend an average three times as much as single-channel shoppers, according to a report by strategic consultant Edgar, Dunn & Company.
The department store also found that 60 per cent of its customers had browsed online before making an in-store purchase.
It's this strategy that helped it top £1bn sales during the six-week Christmas trading period for the first time in its history, outperforming rivals including House of Fraser and Debenhams.
Core to achieving a seamless omnichannel customer experience is a centralised, integrated strategy. Managing each sales channel separately makes it far more difficult to achieve a single brand identity and monitor a customer's journey between channels.
And consumers are increasingly comfortable with brands holding data about their past purchases and preferences, which enable retailers to deliver the personalised shopping experience customers now expect.
The race is on
In a highly-competitive retail environment, the race is now on to provide the customer with their ideal omnichannel experience.
Edgar, Dunn & Company's survey of 400 European retailers found almost a third (31 per cent) already had a strategy in place, while a further 46 per cent were working on developing their strategy.
Going omnichannel means investing in the technology that can bring diverse channels together to deliver a seamless customer experience.
It means building the infrastructure to track and manage stock across an organisation, with integrated systems to manage sales, logistics and inventory.
It also means ongoing investment in the customer experience, as evolving technologies like augmented and virtual reality enable ever more immersive experiences.
Those retailers that can steal a march on their rivals during this period of great disruption will find themselves with a substantial competitive advantage as and when consumers' confidence rebounds.
Find out more about retail solutions from Brother.