Overview
Create high-quality printed garments with minimal training or experience
Unlike traditional labour-intensive processes such as screen printing and embroidery, Direct to Garment printing (DTG) utilizes inkjet printing technology to send a full colour, detailed design directly from a computer to a digital printer with a garment loaded into it.

Piezo print heads then jet opaque white ink and translucent CMYK ink onto the garment and recreate the digital artwork. These inks are water-based, eco-friendly inks that are specifically designed to adhere to fabric when heat cured.

DTG makes it simple to create high-quality printed garments and relieves you from needing highly skilled, extensively trained employees with years of printing experience.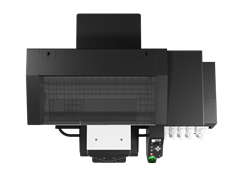 Built to keep up with your high-volume business, no matter how fast you grow.
The Brother GTXpro B gives you more than just substrate flexibility. It also gives you the flexibility to scale up in short order to meet the demands of your growing business, but not before you have the volume to justify it. And you get the flexibility to rearrange your space to better utilise your workforce and create a more efficient production environment.

GTXpro B Ink Chemistry
Take advantage of Brother's own advanced Innobella Textile Inks formulation to print with greater vibrancy and a larger color range. That chemistry, combined with the next generation AIS (Advanced Ink System) bulk feed feature, gives you the advantage of having even less waste and greater efficiencies on every run. Your prints will maintain their integrity even longer and stand up to multiple washings, all while spending less time on maintenance and refills.

More colours, brighter colours
Take your prints and designs farther and make them more colourful than you ever dreamed possible. Our newly formulated inks actually provide a bolder, wider range of colours that make it simple to reproduce designs more accurately and with a visible increase in vibrancy.
Environmentally friendly
Our bolder, brighter Innobella Textile Inks are water-based pigment inks and are ECO PASSPORT by OKEO-TEX® certified and CPSIA compliant. The bulk packaging uses less plastic thanks to the new reusable tanks so there is less waste and less impact on the environment.

Exceptional washability
Designs printed with Innobella Textile Inks are meant to be worn, not worn out. The special formulation combats the chemicals found in typical laundry detergent and withstands the rubbing and scraping of zippers and buttons. The result is a great looking garment that looks brighter, longer, with proven washability as evidenced by AATCC wash tests, where our inks score 4.0 or higher on every test.