Overview

Compact and easy-to-use
Incredibly lightweight and easy-to-hold, the PT-M95 is essential for use around the home and home office. Multiple functions allow for fun, creative labelling in the kitchen, home office, garage, shed or living room.
---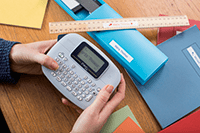 Help get lost school items returned
Every parent knows how easily children's items can go missing at school, from rulers to pencil cases, books and food/drink containers. Help get them returned by labelling the item with your child's name.
---

Your ideal kitchen partner
Quickly print labels to identify the contents of your spice and storage jars or food containers placed in the fridge.
---

Organise your home office
An efficient home is an organised home. Clearly label the contents of files and folders, drawers, shelves and filing cabinets so important information can be found quickly.
---

Various colours and widths of tapes available
Brother M tape cassettes are available in 9mm and 12mm widths with several colours to suit many labelling applications around the home. Why not buy several different colours and widths, and keep them handy?