Overview
Create customised, durable labels in many colour combinations and widths with this feature-rich high-speed label printer. Design labels on your PC, Mac, tablet or smartphone then print using USB or Wi-Fi.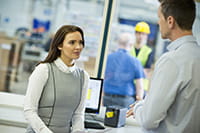 The professional label printer designed for any labelling task
With a wide range of colour combinations and tape widths up to 36mm, near borderless printing and high speed/high-resolution print capabilities, this label printer is ideal for facilities management, document archiving, asset labelling and creating on-demand labels whenever and wherever required.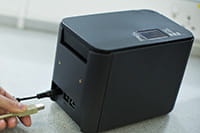 Wired and wireless connectivity
 This compact desktop label printer can be connected to your PC or Mac using a USB cable, or connected to your wireless network to share between multiple users or be placed in a more convenient location away from your computer.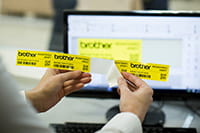 Advanced cutter with easy-peel function
The advanced cutter can produce one long strip of labels that can be easily peeled one-at-a-time, and ensures labels are kept in the correct order.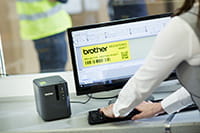 Industrial label design software for PC and Mac
Using the P-touch Editor label design software for Windows and Mac, it boasts advanced features normally found in expensive desktop applications such as industry standard 1D and 2D barcodes, import of logos and other graphics, and allows you to use the fonts installed on your computer. Link to a Microsoft Excel® spreadsheet or .csv file to print multiple labels quickly and efficiently.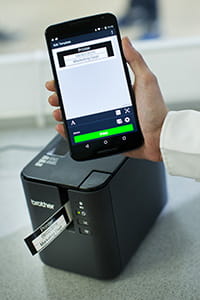 Print from smartphones or tablets
Instantly create and print simple labels from your smartphone or tablet without needing to fire up your PC. The Brother iPrint&Label app wirelessly connects to the label printer to let you design and print labels from your iOS or Android device. Or if you need to identify electrical and data cabling and equipment, use the specialised Brother Cable Label Tool app to print labels for wrapping around cables or for sticking to faceplates, electrical distribution boards and other specialist equipment.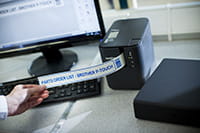 Include label printing as part of your solution
Software and app developers can use various software development kits for Microsoft Windows, iOS and Android devices to enable label printing from within your own software and apps. This makes it ideal to integrate into various solutions where durable labels are required.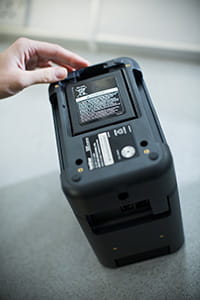 Print wherever and whenever required
There are situations where AC power may not be available, such as on construction sites, or if the label printer needs to be used on a portable trolley. There is an optional battery base and rechargeable lithium-ion battery pack to enable label printing wherever and whenever required.
P-touch laminated labels - tested to extreme
Brother TZe tape cassettes come in a wide variety of widths and colours, and include specialist tapes such as strong adhesive, flexible ID (for wrapping around cables or creating flag labels), tamper evident and security tapes. These laminated tapes are incredibly durable, and are designed and tested to withstand extremes in temperature, sunlight, moisture, abrasion and chemicals.