Overview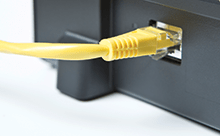 Network Scanners
Offering true network capability with no need to install software at multiple location points, Brother Network scanners allow documents to be scanned directly from the machine to multiple devices. With one simple press of a button or Touchscreen*, scans can be quickly and easily shared across teams and departments; improving workflow efficiency and increasing productivity.
*Touchscreen on ADS-3600W model only.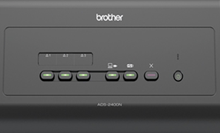 Programmable Keys
Using programmable buttons, scanned documents can be sent instantly to pre-selected destinations for quick and simple scanning, saving time and staff training. Routine scan jobs can be pre-configured more quickly and with fewer steps, improving workflow efficiency.
Direct scanning to favourite locations such as a departmental folders, email recipients or OCR (Optical Character Recognition) software means routine tasks can be performed quickly and simply. This limits the chance of error, reduces the need for staff training and speeds up everyday workflow.
Scan to USB Host
The scan to USB Host feature allows the connection of an external storage flash drive up to 64 GB.

Advanced Image Processing Features

The built-in range of powerful scanning tools intuitively prepare and clean scanned files, improving the quality of the scanned image for storing, editing, sharing and OCR (Optical Character Recognition) needs.
This results in less ink wastage when documents are printed, reduces file sizes for sharing and generates clearly legible articles when reading. This means less time spent manually preparing and correcting documents and more time spent focusing on the core of your business.