Overview
The Brother PR670EC brings you user-friendly features in a professional package.
This machine offers the intuitive features you'd expect from Brother's home range, while giving you the speed and finish of a commercial model. This makes it a great pick to kick-start your home embroidery business.
The PR670EC can produce up to 1000 stitches per minute in just seven seconds, meaning you'll blaze through your order book in no time. Its wide-angle HD LCD display offers vivid, crystal-clear clarity, rendering the brightest images imaginable. Plus, the PR670EC is incredibly easy to use thanks to our 100+ years' experience making machines for professionals and amateurs alike.
The tubular design makes embroidery on finished garments so much easier. Whether it's a jacket, a sleeve, a boot, a cap, a towel or a bag, we have a frame to fit that lets you hoop without having to unpick. As you embroider, the garment moves freely around the free arm, giving you a fast, professional finish. Then there are handy features like its frame sensor, which recognises your frame size and pre-sets your design in the frame centre, or you can reposition the design using our 10.1" touch screen. Included with the machine are four standard embroidery frames (up to 300 x 200mm) plus two cap frames so you can set up the next cap while your first is stitching out. When you are ready to go, the LED pointer lights up to show you the exact position of the needle drop, helping you position jobs faster and more accurately than ever. With this six-needle machine, you can embroider designs without the need to re-thread - using up to six different colours - and when you do change colours, it is quick and easy with the touch of a button needle threader.
For help and advice on setting up your machine, visit support.brother.com.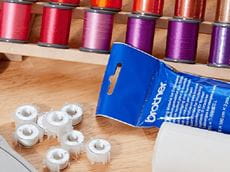 Looking for consumables and accessories for your PR670EC embroidery machine?