Overview
With the freedom and flexibility of touch screen technology, you can achieve endless possibilities and unveil a whole new level of creativity. The VE2300 carries a library of 318 embroidery designs including 12 bobbin work designs, 17 embroidery fonts and 140 frame pattern combinations. Spend more time creating with a stitch velocity reaching 1,050 SPM, plus a 10" bright LED light allowing you to see your work clearly.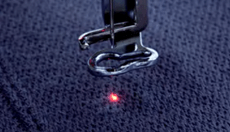 Droplight Embroidery Positioning Marker
The LED droplight shows the needle drop position with pinpoint accuracy - providing perfect embroidery results.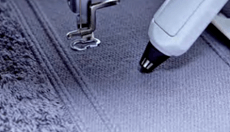 V-Sonic Pen For Embroidery Positioning
Ultrasonic sensing allows you to position your embroidery designs on your fabric and alter the angle rotation with a simple touch.