Overview
Scan it, cut it, and create it quickly, quietly and without fuss with the SDX2250D Disney ScanNCut DX. As the world's only cutting machines with a built-in scanner, Brother's ScanNCut DX machines allow you to scan images and then precisely cut the shapes or outlines, with no need for design cartridges or a PC. SDX2250D is one of the most sophisticated models in the line-up and includes the new Rotary Blade Kit, a fantastic tool for cutting a wide range of textiles (felt, organza, jersey, lace, plus more). You'll be able to cut curved and intricate designs with minimal fraying and without the need for stabiliser. Auto-blade technology means there is no need to fiddle with cut settings, pressure adjustments or make selections from lengthy lists of materials and weights, we'll take care of this so you can spend your time on creating instead. MyConnection enables direct transfer to and from compatible sewing machines so you can easily cut applique pieces and include these directly into you sewing projects or share your favourite sewing design for drawing or embossing with ScanNCut.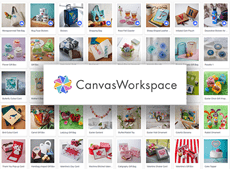 Want to design your own ScanNCut patterns on a bigger screen, or on the go? Want access to hundreds of free patterns? Then download our free design program,
CanvasWorkspace
. No space left? Use it in the cloud! There are no limits to how many free designs you create, or free projects you download!