Overview
If you're looking for a great all-round sewing, embroidery and quilting machine, you'll love the Innov-is NV2600.
As one of our most popular models, this machine comprises most of the features of a modern, computerised combination machine without compromising on ease of use – or taking over your entire living room.
The compact Innov-is NV2600 offers over 200 stitch varieties and 138 embroidery patterns to satisfy your creativity. And with adjustable speeds of up 850 stitches per minute and automatic thread pressure and tension systems, you get a range of Brother's cutting-edge technology in one neat package.
Its combination of light-weight design and top-end features makes the Innov-is NV2600 is ideal for workshops and quilt groups too.
For help and advice on setting up your sewing machine, visit support.brother.com, and you can also take a look at our accessories page to make sure you have everything you need to get started.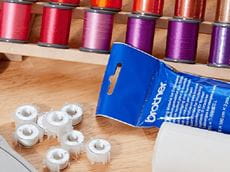 Looking for consumables and accessories for your NV2600 sewing & embroidery machine?