Overview
Large, user-friendly, 7-inch touch panel
The 7-inch panel has been newly developed from the customer's perspective. It delivers better legibility and ease of operation for enhanced work efficiency. The multi-touch feature
enables smooth, intuitive, tablet-like operation.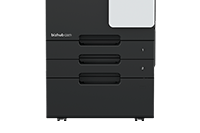 Maximum paper feed capacity of 1,100 sheets
Offering up to 1,100 sheet maximum paper feed capacity, the bizhub C227i offers two 500 sheet paper trays and a 100 sheet manual bypass tray. Printing up to a maximum size of A3, this device is optimal for most business requirements.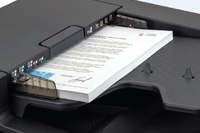 Outstanding scan performance
Automatic duplex scanning with an Automatic Document Feeder (ADF), achieves high-speed scanning of 55 ppm (20 double-sided sheets per minute). Up to 130 sheets* can be loaded at any one time, significantly reducing scanning time and effort. The precision of automatic skew correction, which adjusts the angle of the scanned original, has been greatly improved to deliver highly accurate scanning with less skew.
* 80 gsm paper.
Send scan data instantly to your own email address with "Scan (email to me)"
Users can send scan data such as for receipts and payment slips to themselves immediately. As the "Scan (email to me)" button is on the home screen, the data can be scanned and sent quickly in a few easy steps.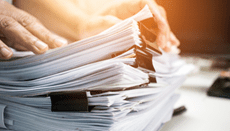 High-performance quad core CPU
A high-performance Quad Core CPU improves overall system performance meaning efficient parallel processing of applications during basic processing functions such as copying and printing.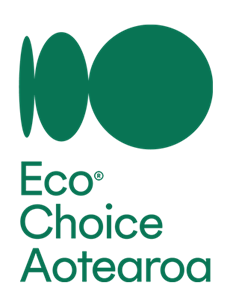 Compliant with various environmental standards
To address environmental issues such as global warming, our products are compatible with global environmental standards, including the Blue Angel Label which aims to develop and introduce highly energy-efficient office equipment. The bizhub C227i also holds the Eco Choice Aotearoa label licence in New Zealand (EC-24-17).