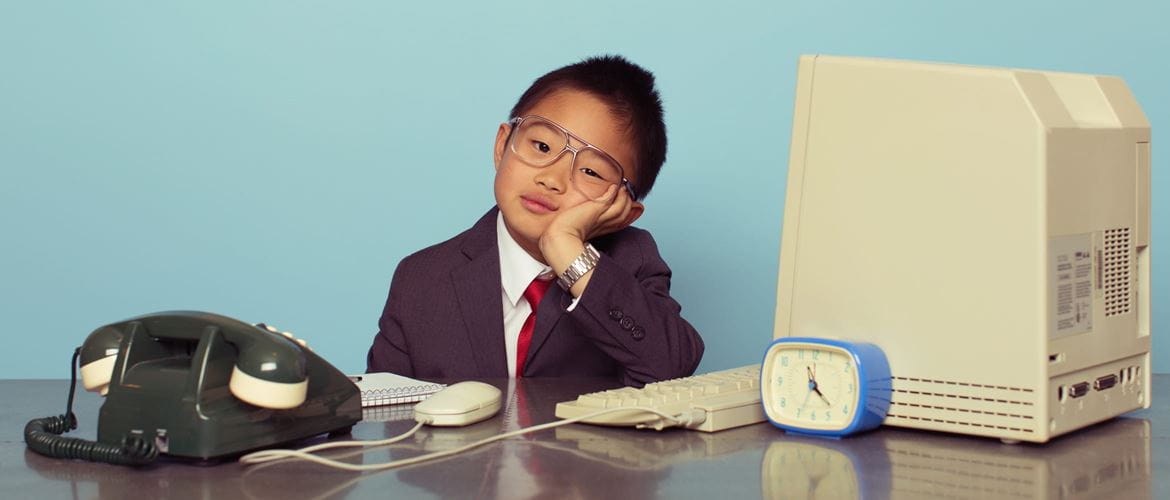 A well-considered investment in new technology is an investment in your business' long-term future.
It's an exciting time for any organisation. The right tech, whether hardware or software, can transform a firm's growth potential, helping your business take the next step in its success story.
However, it can also be a stressful time as smaller firms don't necessarily have the kind of in-house IT procurement expertise needed to make important tech investment decisions with confidence.
With so many alternatives on offer, working out the best IT solution for your business isn't always straightforward – and the implications of getting it wrong can be costly.
That got me thinking about some of the more successful tech investments I've seen in recent times, and what they have in common.
Here are my thoughts on some of the steps that smart SMEs are taking in order to make sure their technology investment decisions have the desired impact.
1. Start at the end
Just like any kind of capital expenditure, the intended benefits of the investment should be well understood before the procurement process starts.
The primary reason that SMEs buy new technology is the need to improve performance or optimise a business process, so look at the processes in your business and ask, what should or could be done better, more quickly or more efficiently?
Often the best people to identify these pain points are your workforce. A staff survey can be an effective way to work out how much time is being spent on different activities, which can help to identify and prioritise inefficiencies.
Then you can ask yourself, could technology help to address this?
Are staff spending hours on end in team meetings, for example? Perhaps they need a more effective tool for collaborating, like an Instant Messaging system or a project management app?
Are they taking an age to locate customer files in filing cabinets? In that case, a scanning solution could make that process far more efficient and productive, freeing them up to make an impact elsewhere in the business.
A firm should only invest once it has clearly identified the processes it needs to change and how new technology can effect that change.
2. Consult and report
So, now you know what you want your new technology to be able to accomplish, it's essential to consult all the staff who will ultimately be using it about the functions they need.
These are not vague ambitions, but clear objectives that tie in to the needs of the business.
You can also ask them about any other desirable features that would help them do their jobs better.
All these factors should also be ranked according to importance, as budget limitations may not allow you to tick every box, so prioritise the most critical.Some of the issues you will want to consider include usability, security, scalability, functionality, reliability, quality, the provision of support and compatibility with existing systems.
Once your analysis is complete, create a written report that lays out exactly what the investment is designed to achieve, that can be shared with, and signed off by everyone that will be affected.
This document will prove invaluable when it comes to navigating through the huge variety of potential solutions that are available.
3. A systematic solution
The huge amount of technology aimed at SMEs can be seen as both a blessing and a curse.
On one hand, it makes it more likely that there is a product out there that precisely suits your circumstances, on the other, finding it could be a real challenge.
Now you have your comprehensive list of requirements, one option is to create a spreadsheet comparing them against a selection of potential solutions.
You can then start narrowing down the list by working out which option fulfils the most criteria to find the best solution.
Of course, cost will be a factor too, but look beyond the initial investment to consider the long-term value, such as the print cost per page provided by a new printer.
If this still seems a little overwhelming, then teaming up with a technology supplier could be the way forward.
4. A helping hand
Don't think of a supplier as being a sharp salesman who's trying to sell you the most expensive solution they can, regardless of its suitability.
They should function more like a trusted procurement partner, who can support you through the decision-making process, installation and bedding in of any new technology.
They want to build a long-term relationship with your business, so it's in their interest to ensure they provide the right long-term solution for you.
That should include offering a trial, or at least a demo, of any tech you are considering.
Brother has a network of partners, for example, including specialists across a range of industries such as healthcare, education, retail, local government and manufacturing.
They work hard to understand what businesses need from their technology and develop integrated solutions that enable customers to achieve their goals.
Technology experts like these should work with you to understand the challenges you face, then introduce services and products that will help you to work smarter and stay ahead of your rivals.
5. Teething troubles and training
Most IT professionals will tell you that, however well planned an installation is, some degree of teething troubles are inevitable.
For small firms, any period of downtime can have a huge impact, so ready access to technical support and training is essential, especially in the first few months.
Again, seek out a reseller that can provide some added value by managing the installation process.
Training ensures that your staff are getting all they can out of a new technology, using it to its full potential and generating the maximum positive impact on productivity, as well as delivering a better Return On Investment (ROI).
Many technology suppliers can offer training or there are good independent providers too, so you have plenty of options to get the right solution for your business.
Learn how businesses from various sectors are employing technology to their advantage by visiting Brother's business solutions homepage.