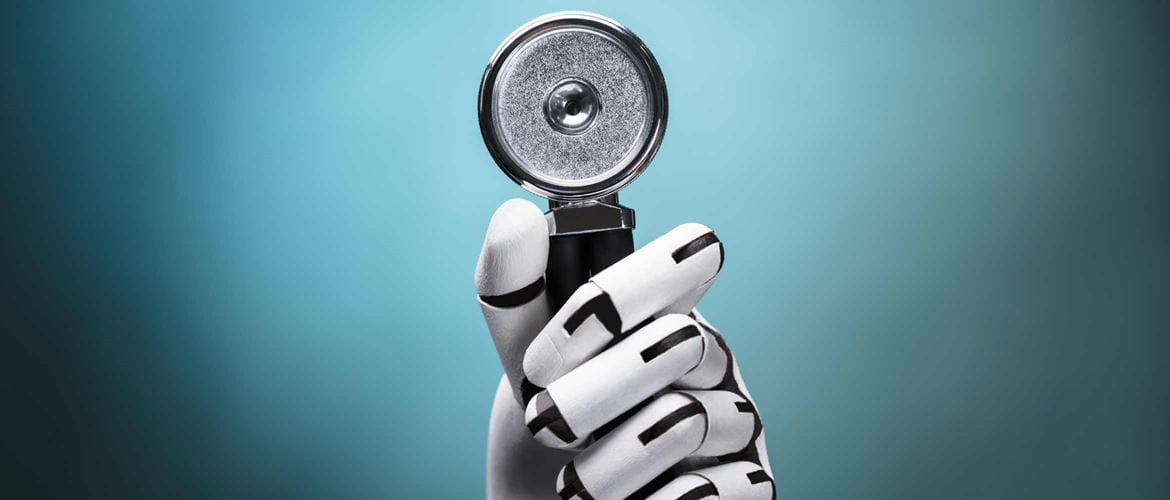 Opportunities abound for artificial intelligence in the health sector, from virtual nurse apps to cyber protection, while data analysis has the potential to avert problems with patient flow.
Back in September 2017, NHS England chief executive Simon Stevens told the NHS Health and Care Innovation Expo that major artificial intelligence (AI) innovations were in the pipeline in the NHS. He said that AI and machine learning is being, and will be, used in areas such as dermatology and pathology to improve clinical care.
Efficiencies have never been more necessary. However, according to some, the sector has been slow to catch up with AI's benefits. Dr Panos Constantinides, associate professor of information systems at Warwick Business School and a digital technology researcher, says: "Unlike in other sectors, where companies such as Amazon and Google have been able to use AI in combination with data on online user behaviour to make recommendations on future user choices, the highly regulated healthcare industry does not grant easy access to patient data. Maintaining the security and confidentiality of patient data is a key priority in most countries."
However, Constantinides adds, recent discussions between academics, regulators and healthcare providers towards more evidence-based medicine, the need for access to more diverse types of data to solve chronic conditions, the increasing workloads of healthcare professionals and a drive to improve the quality of healthcare services have opened up opportunities for AI.
Data from CB Insights suggests that the number of startups entering the healthcare AI space increased by 65% between 2012 and 2017, with AI algorithms and predictive analytics used to improve the time of diagnosis for different medical conditions, reduce drug discovery times and provide virtual assistance to patients, among a host of other things.
Monitoring and improvement
Platforms such as iCarbonX use genetic data, along with data from Fitbit-style wearables, blood test data, heart data from an electrocardiogram and information from a patient's medical history, to offer continuous monitoring and improvement suggestions for personal health. UK-based AI company Benevolent AI is using AI to support new drug discoveries. IBM's Watson for Oncology uses a cloud-based IBM supercomputer to access and analyse massive amounts of data – from doctors' notes and medical studies to international and hospital-based clinical guidelines.
These data analytics platforms enable clinicians to better evaluate patient flows, more easily identifying bottlenecks or potential problems that would increase the amount of time patients are forced to wait for care, and take steps to resolve these problems before they occur. However, technology companies "have a responsibility to make these systems much simpler to use and easier to integrate into NHS IT systems", according to Orlando Agrippa, CEO of healthcare analytics company Draper & Dash. "We regularly hear from hospital CEOs and clinicians that they want to be able to use this type of platform, but they expect them to be much more user-friendly."
Cybersecurity
The healthcare sector is regularly targeted by cyber-attacks, says Matt Walmsley, EMEA director at cybersecurity company Vectra Networks, adding that "the goal of the NHS – to go paperless by 2020 and to digitise all data – makes for even richer pickings."
Vectra's research found 164 threats per 1,000 host devices that had defeated or circumvented existing security controls in just three months between January and March 2017 – before WannaCry struck down the NHS.
Healthcare providers are starting to use AI to give them the requisite speed to combat the rising cyberthreats. Says Walmsley: "AI can track and locate the behaviour of an attacker inside a network before a data breach occurs or ransomware has the chance to take an organisation hostage. We're seeing the need to increasingly automate security in healthcare, as legacy systems and manual human processes are unable to respond in a timely manner."
Improved customer service
AI is also being used to improve customer service. Nick Wilson, managing director, public sector, health and care, at software company Advanced, says: "While the reasons for NHS customer service challenges are varied and widely debated, there is no doubt technology can help to deliver positive patient outcomes while driving efficiencies. Empowering patients to self-help rather than contact an NHS service will help reduce the number of patients who need to see a GP." For example, Olivia, Sensely's AI virtual nurse app for the NHS, uses Advanced's own Odyssey clinical decision support technology, gathering details by asking questions of the patient, just as a GP would in person. The app then reviews the information it has received from the patient and suggests the best course of action.
Administrative efficiency
Back-office inefficiencies are also being improved with AI. Combining big data and AI allows healthcare organisations to perform predictive maintenance more effectively. Intelligent print management software is being used by Brother UK to perform high-volume label printing and combined wristband and label printing. Brother's TrustSense smart technology automatically detects whether wristbands or labels need to be printed, without special setup, freeing up crucial staff time.
The future of AI in healthcare
AI is constantly being used to innovative effect. Swiss software company Iprova is using AI to develop new healthcare inventions, such as one that enables an autonomous vehicle to carry out health checks on its passengers by controlling small variations in its motion and evaluating the body's response to known stimuli.
It's crucial for the healthcare industry to embrace technologies that will help, says Draper & Dash's Agrippa. "The winter crisis currently enveloping A&E departments across the country demonstrates how important it is that the government and trusts look closer at how they can improve these services – especially during busy periods. AI has the capability to help predict these times when hospitals will be stretched, and help with the planning process and patient flows."