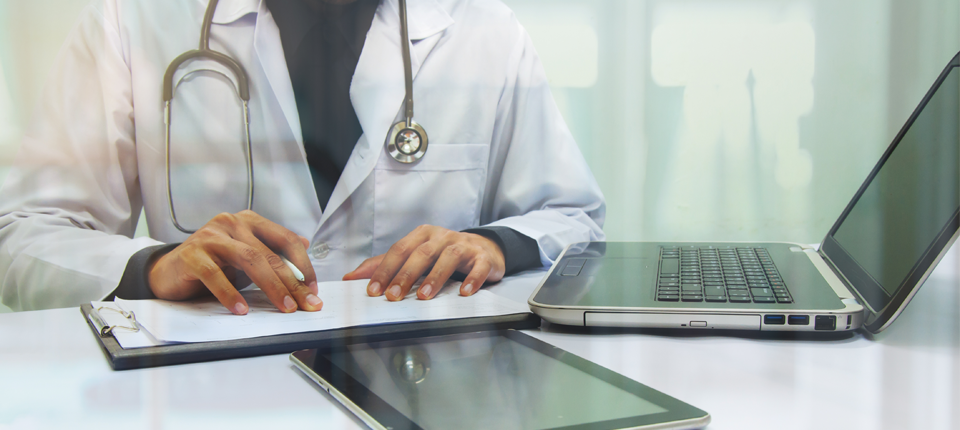 Picture this: A young boy sick with a bad case of the flu, an anxious father by his side, and a doctor trying to provide a prescription out of a printer that has run out of toner.
Just down the hall, at the nurse's station, an exasperated woman waits as the nurse tries to coax life into a scanner that she swears just a moment ago was working just fine.
Around the corner and through a set of swinging doors, an already-long line of patients at the reception grows a little longer. The receptionist seems to be having trouble getting readable wristbands from the dedicated printer.
Healthcare printing protects patients
These are all-too-common issues in hospitals and healthcare centres. Little printer problems that clog up the day of already-busy doctors, nurses and support staff.
But these kinds of problems may not seem so minor when you realise how much time fixing them wastes—time that could be spent providing better care to patients, maybe even saving a life.
Consider the doctor trying to print the prescription. Imagine if she was able to smoothly and efficiently provide a script to her young patient and more quickly move onto the next appointment. That means more people covered in a day, more treatments dispensed, and more serious issues discovered.
Now the nurse with her scanner issues. That time she spent trying to fix the scanner could eat into the time she has caring for patients, listening to their concerns, and alerting other staff to potential problems.
Even the receptionist with her wristbands has a role to play in avoiding medical emergencies. Those wristbands inform all other hospital staff on the condition of the patient—if they suddenly deteriorate and need urgent care, how could they possibly receive it if the wristband information isn't readable?
Why printer reliability matters
Many hospitals choose to fight against this "death by a thousand papercuts" with managed print solutions that take care of these issues for them.
Rather than doctors, nurses and support staff having to spend their valuable time with printer admin, these responsibilities are handed over to dedicated third-party professionals who keep the printer maintained and well-stocked, keeping downtime to a minimum by fixing problems before they mature.
This ensures that everything from wristband printing right through to scanning is as fast and accurate as it needs to be for a smooth, efficient healthcare experience for both patients and practitioners.
For more information on how Brother Managed Print Services can assist healthcare businesses, download our free ebook and take back control of your printing.