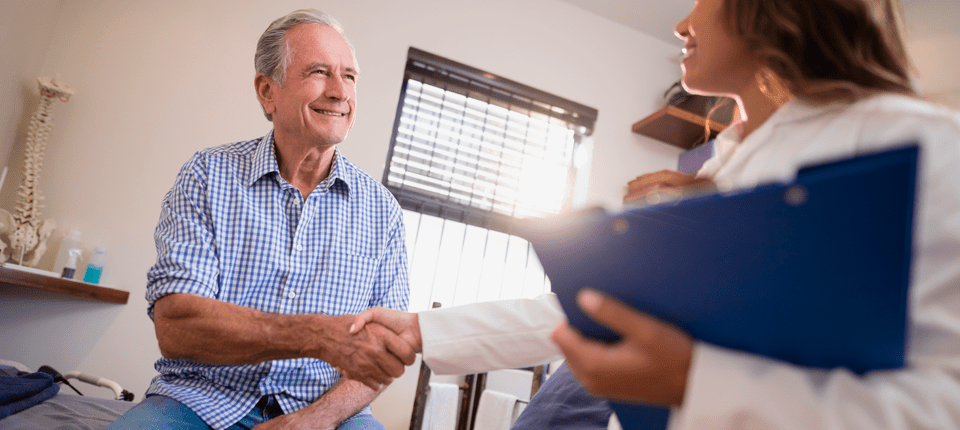 A doctor stuck waiting for a print job to finish. A receptionist performing "percussive maintenance" on an unruly scanner. And behind it all, more patients that don't get the care they need due to lack of productivity.
The culprit? The print setup. But there is a solution, in the form of managed print services—here's how an efficient print setup can improve the productivity of your healthcare business.

Better productivity for healthcare workers
Straight off the bat, an efficient printing system is inherently reliable. That means that staff don't have to worry about errors or downtime, getting consumables replaced, waiting for orders to process or otherwise fixing problems. Or if there are issues, you have support on hand to sort them with minimal downtime.
Even the couple of minutes spent replacing an ink cartridge or clearing a jam add up if it happens multiple times a day across multiple staff members. It's an easy way to damage the productivity of your healthcare business.
Next, there's the careful placement of the printers to be within easy reach of staff, resulting in faster, more streamlined printing of documents such as:
Consent forms
Registration forms
Medical orders
Prescriptions
Lab results
Medical history
Clinical data
Printing efficiencies gained here are especially beneficial for patient care, as admin staff are able to more easily print whatever patients need, whether receipts or prescriptions.
After all, 66 per cent of respondents to a Brother survey said that print is "vital" to business operation—healthcare is the same, and poor performance in this arena means a poor patient experience as well.
Lastly, an efficient print setup also reduces the amount of time required to train staff in its use. For example, an inefficient print setup might consist of ill-equipped printers that only work in certain ways, with certain documents or from certain devices.
Medtech guidelines, for example, state that printers should have multiple trays for both A4 and A5 printing. Failing to have this variability means that healthcare workers may have to constantly change around paper sources (or even print locations), wasting more and more time.
Each of these unique problems require additional training time for the people who are using them—including healthcare workers—ultimately taking time away from their actual duties.
But it's not just the healthcare workers that benefit.
More time for technical support staff
Instead of support staff having to fix printer problems, update drivers and keep up-to-date with emerging security issues, an efficient print setup should have the capability of updating all of these automatically.
An effective managed print service will not only include proactive maintenance and onsite repairs, but also remote monitoring of the print fleet for issues as they arise, so as to be one step ahead when it comes to maximising printer uptime.
Not to be overlooked is the additional workload of actually setting up the printers in the first place. With Brother Managed Print Services, you get preconfigured settings for new and replacement printers that cut down on setup time for support staff.
Think print is a waste of time? You'll think again after finding out how much the average New Zealand business really prints.
Summary
More time for doctors, more time for admin, less training, faster setup, lower downtime; how can this spell anything other than higher productivity and improved patient care for a healthcare business? And it's all down to a healthy print setup provided by managed print services.
Want to learn more about Brother Managed Print Services and how it could put your print woes to rest? Download our free ebook today.