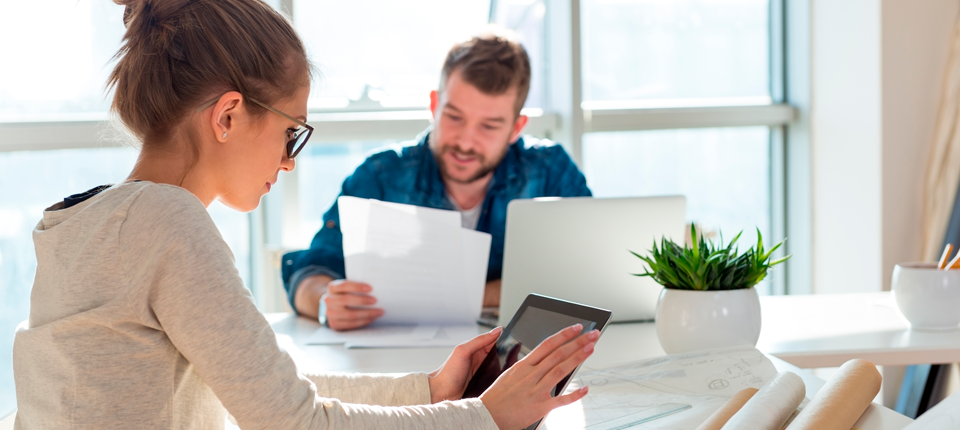 You probably didn't get into business to become an expert on office printers. We know that managing your print operations can eat up valuable time and distract you from what you do best – running your business.
That's why we've created Brother Managed Print Services (MPS). It offers you print as a service, where we manage this part of your business for you. We send you ink or toner before you run out and take full responsibility for the on-going servicing of our printers, to ensure you don't have any downtime.
The most successful organisations look to continuously improve their processes to stay ahead. With Brother MPS at your side, you'll receive ongoing advice and strategic support from experts in workplace technology.
The main business benefits of using Brother MPS are, firstly; that it allows people in the business to focus on their core tasks, while experts make sure the required printing functionality is available.
Secondly; businesses benefit from predictability and transparency of printing costs. Brother MPS provides up to 36% cost savings from standard pricing. On top of this, there are no hidden costs—businesses have full visibility of cash flow on consumables and hardware.
How does Brother MPS work?
Review
We will work with you to review your current business printing setup, and provide a recommendation to improve productivity and reduce costs.
Contract
Once a contract is finalised, installation and training dates are arranged.
On-going support
The responsibility for your printing rests with us. You'll receive Brother's renowned service and support, meaning you can rest assured that your printing is running seamlessly and we'll sort any issues.
Payment
You pay a cost per page for the pages you print.
Brother Managed Print Services pricing options
Cost Per Page (CPP)
You pay (or finance through a partner) for the machine. There are strong cost savings with lower CPP on a flexible pay-as-you-go agreement.
Cost Per Page Inclusive (CPPI)
You pay a highly competitive, all-inclusive cost per page rate, which covers the value of the machine, consumables and service costs associated with printing.

Why choose Brother MPS?
The best-rated printers in the market
A consultative approach
Free delivery and installation, plus training for your staff
Automated replenishment of inks and toners
Proactive maintenance and servicing
4-year on-site warranty
Brother 24/7 New Zealand helpdesk
Free, comprehensive recycling – good for business, good for the planet
No hooks or hidden costs
Local warehousing—ensuring quick response times
Rated the best printers in the market
Brother printers are rated best in the market and consistently win awards for their reliability and performance. Our current mono laser range won the 2017 BLI Line of the Year award – which is like the Michelin Star of the printing industry.
A consultative approach
Brother's print assessment helps you to understand your current print environment to identify your needs. Instead of a one-size-fits-all approach, Brother uses a Balanced Deployment methodology, which calculates the right printers the workgroup needs and where they should be placed to optimise productivity.
With this approach, staff workflows will be more efficient because they're not spending time walking across the office and getting distracted on the way. Bottlenecks at the printer are eliminated and there's always a backup printer if one goes down.
Free delivery and installation, plus training for your staff
Brother will deliver and set up your machines free of charge, so you can focus on your day-to-day operations. Your machines will come preconfigured too, so you're up and running with minimal downtime. Our technician will also take the time to train you on key features and setup shortcuts.
Automated replenishment of inks and toners
When your inks or toners are getting low, Brother will automatically send replacements to you – so it's one less thing to worry about and you're never caught out when there is an important printing job. You'll receive an email notification informing you that your new consumables are on their way.
Proactive maintenance and servicing
Brother will proactively notify and manage any printer issues to maximise your uptime. We will cover the cost of all maintenance services and parts if issues arise. We'll schedule preventative maintenance visits with their service network. This is based on the volume of work your printer has done and is undertaken to prevent any future problems. Periodic maintenance will also be undertaken regularly.
4-year on-site warranty
Brother will support you every step of the way with our 4-year on-site warranty commitment. This means that if we can't solve your problem over the phone, we'll send someone out to repair your machine—free of charge. Our technicians are located throughout the regions to ensure that you get excellent service. T&Cs apply.
Brother 24/7 New Zealand helpdesk
If you ever need to talk to an expert, Brother's 24/7 support team based in Auckland, Tauranga, Wellington and Christchurch are just a phone call away. We make a commitment to answering calls from business customers within two minutes.
Free, comprehensive recycling – good for business, good for the planet
Brother doesn't just deliver the machines and consumables; we also offer free recycling nationwide for all your printers, inks, toners and drums. We take our environmental responsibilities seriously and understand that other New Zealand businesses want to do the same. That's why we've partnered with experienced providers Croxley Recycling to bring this service to you and make the goal of treading lightly a whole lot easier.
No hooks or hidden costs
Pay for the pages you print. It's that simple. You don't pay additional cost for freight – which is a real bonus of Brother MPS. What you see is what you get with your cost per page from Brother.
Local Warehousing – ensuring quick response times
Not only is Brother's NZ helpdesk and service network local, our local support also applies for stock and parts. We hold stock and spare parts in New Zealand at our Tauranga and Christchurch warehouses. Everything is locally stored and locally shipped to ensure we can react quickly. This also means we can guarantee overnight shipping for both the North and South Islands.
For more information about Brother MPS, download our ebook, or contact the team for a consultation.